Nursing assistants, often known as nursing aides or CNAs (Certified Nursing Assistants), help patients with daily activities. They work in hospitals as well as long-term care institutions such as nursing homes, assisted living communities, and home care. 
Nursing assistants must finish a state-approved training program provided by a community college, online school, or medical facility, and most have a high school certificate or GED. To get certified, they must pass a state exam. Nursing assistants are well known for owning a high level of empathy and compassion.
This Certified Nursing Assistant job description includes a list of the most significant duties and responsibilities of a Certified Nursing Assistant. It's customizable and ready to put on employment sites. It can help employers save time, find suitable applicants, and recruit the finest people. 
Learn about the essential qualifications, tasks, responsibilities, and abilities that a CNA job description should have in this article
What does a CNA do?
Under the supervision of a nurse in charge, a certified nursing assistant, often known as a nurse assistant or CNA, supports patients with different activities in hospitals, nursing homes, and other facilities. CNAs frequently assist patients in their care with daily tasks such as showering, toileting, clothing, and so on. Certified nursing assistants are also responsible for administering medications and ensuring the comfort and safety of patients.
What are some of CNA's responsibilities?
linens are changed,

room cleaning,

toileting,

feeding,

grooming,

assisting in the movement of patients

aiding with physical therapy, performing range-of-motion exercises, and so on

dressing,

bathing in bed (under the direction of a nurse),

observing vital signs

helping with dental treatment

keeping track of the health of patients,

putting together discharge packages for patients

medicine dispensing,

a blood pressure reading
>>> Read more: CNA Jobs and Three Working Places for New CNAs
A CNA Job Description
Job descriptions: What exactly is the big deal? What difference do they make? Is anyone paying attention to them?
They ARE significant! They are really important! And you'd best be paying attention to them!
Assisting the professional staff is part of a certified nursing assistant's job description. A CNA's daily tasks will include providing direct care to patients (bathing, toileting, feeding, grooming, and so on) as ordered by the charge RN or LPN. Their job will be to ensure the comfort and safety of the patients. They must also adhere to all departmental policies and procedures, as well as safety, environmental, and infection control standards. They'll represent the facility honestly, without accepting gifts or other inappropriate inducements. A CNA upholds the facility's Core Values and purpose while respecting the dignity of each individual.
Every staff member at a facility must have a job description. Here are a few reasons why you should have a job description:
It specifies the job responsibilities for both the employer and the employee.

It may be used as a checklist for employee performance evaluations.

It aids in the consistency of pay scales within each job category.

Workloads may be more simply distributed and managed.

It is possible to specify promotions and career ladders.
Those dull sentences contain a lot of information.
There is a job description for every position you apply for and are eventually hired for. Let's go over the parts of a job description so you can evaluate if it's suitable for you when you're considering a job offer. The certified nursing assistant job description is no exception.
Job Title
The position's level in the organization is indicated by the job title. Look for titles like "Certified Nursing Assistant" or "Staff CNA" while looking for a CNA. This indicates that certification will be a necessity. The CNA level may be referred to as "Nursing Technician" or "Patient Care Technician" in some hospitals or institutions. Don't assume you're not qualified to match the job title of these job descriptions for a CNA resume if you see any of them!
CNA duties and responsibilities
This is the most important part of the nurse assistant job description for a resume. It outlines the job's main responsibilities, typically with examples and reasons. A comprehensive list of responsibilities that a CNA is required to do will be included in a suitable job description. CNA responsibilities at a nursing home, for example, may include the following:
Serves meals and feeds patients as needed, as well as providing fresh water and snacks, assisting patients with ambulation, and turning, placing, and transporting patients.

Assists with or administers bed baths, baths, or showers to patients; toileting by giving bedpans and taking patients to the toilet; backrubs and skincare; and keeping patients clean at all times.

Follows nurse instructions to conduct operations such as providing enemas, non-sterile dressings, ice packs, and heat treatments, offering sitz or therapeutic baths, and putting restraints on a physician's order.
Other tasks are usually included after the job's particular duties. They may appear unimportant, yet they are just as vital as your work responsibilities. They generally resemble the following:
Protects confidential patient information in accordance with the HIPAA Privacy Act.

Maintains a safe hospital environment by adhering to all policies and procedures.

Takes part in all training and ongoing education opportunities. Maintains licensing in accordance with federal, state, and accreditation requirements.
Pay close attention to every detail in the Duties and Responsibilities section. You agree to each and every one of those items when you take a job. Your supervisor will evaluate your job performance using your job description as a checklist. If you're unsure about a task, ask for clarification or further information.
Another point to consider is that it is difficult to describe everything in a job description. There will be new or unusual situations that fit within your work area. Many companies will additionally include a general "Other responsibilities as assigned" statement to address this eventuality.
Maybe you need What Are CNA Duties In Hospitals?
Position Summary
This is a shorter version of the section on Duties and Responsibilities. It's a broad overview of the job's most significant tasks and functions. It also contains language about following company rules and standards, which serves as a reminder that there are high expectations for behavior. The supervisor's title is generally included in the Position Summary to make it obvious to whom you report.
The following might be included in a CNA's position summary:
The Certified Nursing Assistant (CNA) is in charge of assisting the medical professionals. As ordered by the RN or LPN in charge, provides direct care to patients (bathing, toileting, feeding, grooming, etc.). Maintains patient comfort and safety at all times. Follows all departmental rules and procedures, as well as requirements for safety, the environment, and infection control. Free of gifts or inappropriate inducements, represents the facility with honesty. Respects each person's dignity while adhering to the facility's Core Values and goal.
Education and Experience
The job description provides the credentials needed to fill the position after informing you what the work entails. There might be multiple components:
The most important requirement is education. You must be able to show a copy of your certificate if it reads "certified." Other qualifications, such as a high school diploma or a GED, may apply.

If job experience is required, the required time will be specified. It may not be necessary for a CNA, or it may be specified as "1–2 years" in a specific environment.

Being bilingual, understanding how to use a computer, and having a valid driver's license are all examples of skills and abilities. There may be a statement regarding the ability to communicate verbally and in writing, as well as the ability to work with minimal supervision.
Working Conditions
The physical and scheduling demands of the job must be disclosed by the employer. This is a crucial piece to read and comprehend.
A description of the nursing unit, the noise level, and the likelihood of interruptions can all be part of the working environment.

The degree of activity, which is active for a CNA, will be one of the physical criteria. Standing, walking, kneeling, stooping, sitting, lifting, and pulling will be classified as work positions. There will be a note stating the maximum weight you can lift.

A few sentences on being able to see and hear or use other sensory inputs on the job are occasionally included.

The scheduled timetable should be accompanied by a blanket declaration that "Overtime and alternate shifts may be required." If you're looking for a CNA job, seek a description that says, "This work involves long hours." It's part of the job to work on weekends and holidays."
CNA Job Description Sample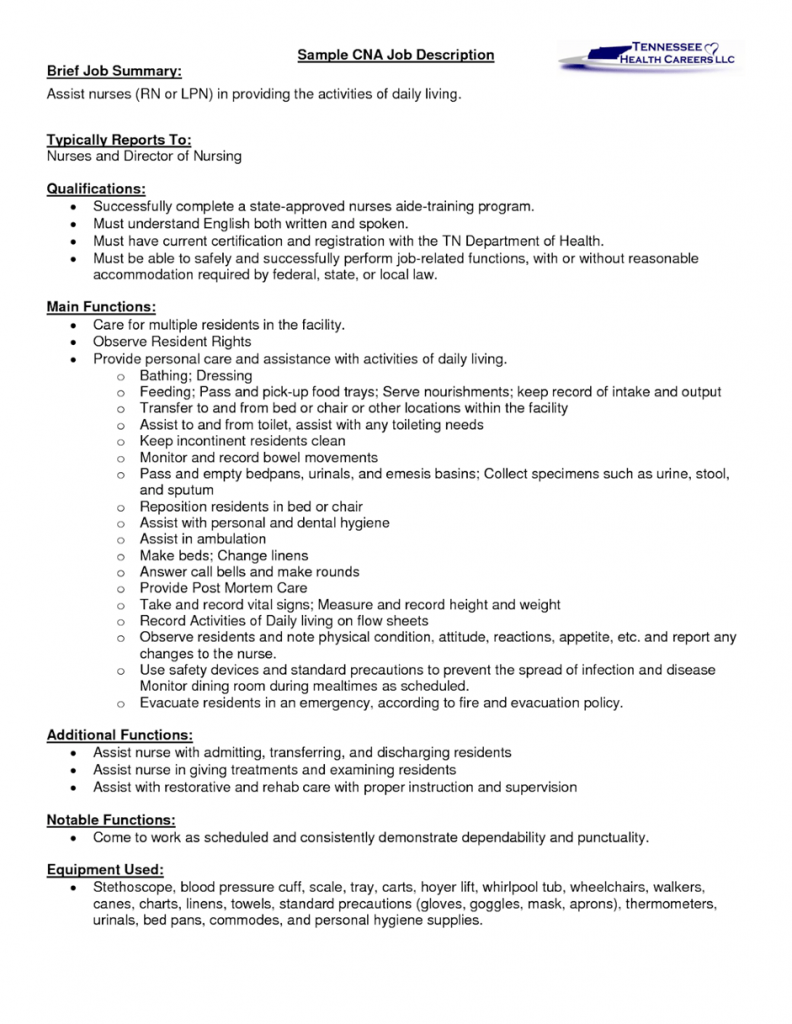 You should be provided a copy of the CNA job description before you go if you've been asked for an interview. Take the time to read it thoroughly since it will tell you more than a Human Resources employee who is unfamiliar with the duties of a CNA. It can assist you in determining whether the position is a suitable fit for both you and the business. If that's the case, congrats on making such a good decision!
Visit our websites to get more information about CNA and free CNA practice test or download it for your IOS or Android device.