Working as part of a team is one of the best aspects of being a healthcare professional. Each team member has a unique set of experience and qualifications from CNA to LPN. Learning how each specialization helps to deliver good patient care is both interesting and exciting.
Let's take a peek at some of the experts you'll be working with. The state requires all health care professionals to be licensed. Each job has its own set of educational qualifications and duties. As you learn about each role, you'll see why they're all crucial in assisting the patient in achieving the greatest possible outcome.
You're likely already aware of what some of your colleagues do. Let's start with a short review of nursing team members.
Nursing Team Members from CNA to LPN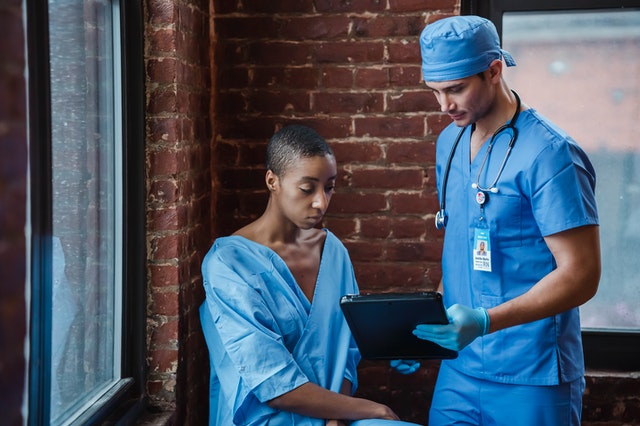 Registered Nurse
A Registered Nurse (RN) must have at least a two-year associate's degree, with many RNs having a four-year bachelor's degree. An RN must pass the National Council Licensure Examination for Registered Nurses (NCLEX-RN), which is recognized in all states. RNs serve as staff nurses, administrators, and educators in a variety of settings.
The RN is in charge of managing Licensed Practical Nurses (LPNs), Licensed Vocational Nurses (LVNs), and Certified Nursing Assistants (CNAs). Other responsibilities include:
Addressing the health problems of patients

Obtaining orders from doctors

Medications are given and IVs are started.

Monitoring patient progress and informing physicians of any changes

Educating patients and their families, particularly providing discharge instructions

Charting and updating medical records
Maybe you care about Top Registered Nurse Interview Tips
Licensed Practical Nurse or Licensed Vocational Nurse
A Licensed Practical Nurse (LPN) or Licensed Vocational Nurse (LVN) is a nurse who has completed one year of state-approved study and has passed the National Council Licensure Examination (NCLEX-PN), which is recognized in all states. A licensed practical nurse (LPN) or a licensed vocational nurse (LVN) works under the supervision of a registered nurse (RN) or a doctor.  An LPN/LVN can supervise CNAs in various states.
Basic nursing care is provided by the LPN/LVN. They may be able to acquire training to administer medications or start IVs in some states. Some of their obligations are as follows:
Vital signs are used to keep track of the patient's condition

Placing urinary catheters and changing dressings

Assisting with activities of daily living (ADLs) such as bathing, dressing, and feeding

Notifying the RN or doctor of any changes

Charting and updating medical records
Certified Nursing Assistant or Certified Nurse Aide
To learn basic patient care skills, a Certified Nursing Assistant or Certified Nurse Aide (CNA) enrolls in a state-approved program. The length of the program and the certification exams are set by each state. The CNA is listed on the state registry after completing the CNA certification test. A CNA can receive specific training to become a Certified Medication Assistant (CMA) in a few states, allowing them to administer medicines.
Patients and residents are cared for directly by CNAs. They help with ADLs in the following ways:
Patients or residents are cleaned and bathed

Assisting with getting dressed, toileting, and eating

Transferring and positioning

Vital signs tracking

Charting and updating medical records
As a CNA, you may be expected to work closely with other healthcare professionals. These experts may have their own areas within the facility and provide regular service, or they may come to the patient when the physician orders them to. All of them, like the CNA, provide direct care. They can also enter information into the patient's medical record.
Occupational Therapist
A master's degree is required of an occupational therapist, and some even have a doctorate degree. In addition to the curriculum, a nearly six-month internship in a supervised clinical setting is required. To be certified, all occupational therapists must pass the National Board for Certification in Occupational Therapy (NBCOT) and meet the standards of their respective states.
Occupational therapists are qualified to assist patients who are disabled, wounded, or sick in developing or regaining their ability to do ADLs due to their considerable education and training. The following are some of their responsibilities:
Assessing the health and requirements of patients

Creating treatment programs that include specific actions in order to achieve objectives

Using exercises or specific approaches to assist in pain management

Visiting a patient's home or workplace to discover areas where they can improve

Choosing the right equipment and devices to help patients

Observing and reporting progress to the doctor and other members of the team

Patient, family, and employer education.
Physical Therapist
A bachelor's degree is necessary, as well as 30 weeks of supervised clinical experience, to become a physical therapist. The National Physical Therapy Examination is required of all physical therapists. Each state has its own licensure standards (NPTE). A physical therapist can become board certified in a specialty such as orthopedics, sports medicine, or geriatrics after completing 2,000 hours of work experience and passing another exam.
Physical therapists assist patients or residents in improving their mobility and pain management. They can work with patients to prevent chronic diseases from growing worse, or they can give their services as part of the rehabilitation process. The following are some of their responsibilities:
Determining how effectively individuals are able to move and function

Creating a personalized care plan

Exercising, stretching, and using treatments like ultrasound or heat therapy

Identifying which equipment will provide the greatest value to the patient

Assessing and changing the treatment plan to achieve the desired outcome

Patients and their families are being educated on how to cope with physical obstacles.
Respiratory Therapist
A two-year associate's degree is required for a respiratory therapist, however, many companies prefer a four-year bachelor's degree. Except for Alaska, all states require respiratory therapists to be licensed. The National Board for Respiratory Care is in charge of certification (NBRC). A respiratory therapist must first earn the credential of Certified Respiratory Therapist (CRT). A respiratory therapist can become a Registered Respiratory Therapist after gaining further education and experience and passing another examination (RRT).
Patients with breathing difficulties are treated by respiratory therapists for a number of reasons. Some individuals have long-term illnesses like asthma or emphysema. Respiratory therapists may work in the neonatal intensive care unit (NICU) in a hospital setting, caring for preterm newborns with undeveloped lungs. Respiratory therapists may also work with patients who have been intubated and placed on ventilators in emergency situations. Typical responsibilities include the following:
Having a conversation with patients regarding their respiratory issues

Discussing treatment options with physicians and adhering to their recommendations

Administering respiratory treatments and medicines

Keeping ventilators running for individuals who have been intubated or have tracheostomies

Patients and their families are being educated about their therapies and equipment.
Speech Therapist
To get licensed, speech therapists, also known as speech-language pathologists, must have at least a master's degree and supervised clinical practice. Each state has its own certification standards. Some states mandate that the education take place in a school that is recognized by the American Speech-Language-Hearing Association's Council on Academic Accreditation (CAA) (ASHA).
Speech therapists are trained to evaluate and diagnose language and swallowing disorders. They deal with people of various ages. Developmental delays, brain damage, autism, hearing loss, or a cleft palate are all possibilities for children. Adults may suffer from Parkinson's disease or have suffered a stroke. A certified speech therapist is capable of doing the following tasks:
Examine a patient's difficulty with speech, vocabulary, or swallowing

Make a treatment plan that is unique to you

Teach patients how to pronounce words and produce sounds

Work with patients to strengthen the swallowing muscles

Patients, relatives, and instructors should all be educated.
Other team members may be required to assist a patient or resident at times. These important persons give services on a regular or irregular basis. They aren't members of the direct care team, but they play an important role in the patient's care.
Dietitian
A dietitian or nutritionist must complete at least four years of education in order to obtain a bachelor's degree. They specialize in nutrition, dietetics, clinical and public nutrition, or clinical and public nutrition. They've also worked in a supervised clinical setting. Many of them hold master's degrees. Dietitians must be licensed in most states, and the procedure varies by state. By completing at least 1,200 hours of supervised experience, a dietitian can become a Registered Dietitian Nutritionist (RDN). Many hospitals and facilities need an RDN, and some states make it a requirement for licensure.
A dietician or nutritionist, as one might expect, plays an important role in health care. To attain excellent health and improve or manage a medical condition, a proper diet is required. The following are the tasks of a dietitian:
Assessing the health and nutritional needs of a patient

Nutritional education for the patient and his or her family

Creating meal programs that a patient can afford and follow

Following patients and evaluating how effective their food programs are

Changing meal planning as needed

Educating the public about the importance of a good diet
Social Worker
To acquire an entry-level position as a social worker, you need at least a bachelor's degree and a supervised internship. A master's degree and further supervised clinical experience are required by some companies. Most states require social workers who practice in non-clinical settings to be licensed. All states need a master's degree and at least two years of clinical experience, as well as the passing of an examination, to become a Licensed Clinical Social Worker (LCSW).
Social workers assist patients and others of the community in dealing with or resolving difficulties in their life. They offer to counsel and point them in the direction of services that can help with the issues. LCSWs work with patients who are suffering from mental or behavioral disorders. A social worker's numerous tasks include the following:
Determining the requirements of patients and how well they are managing in their daily life

Providing assistance to patients who are dealing with stress and life transitions

Identifying and connecting patients to community resources

Assisting with emergencies such as abuse or neglect

Creating groups or classes to deal with certain problems or situations

Counseling and treatment for patients.
Isn't this a wonderful group of individuals? From CNA to LPN. You're all ready to serve your clients, patients, and residents in your own unique way. You can do so much more when you work together and communicate well!
Visit our websites to get more information and free CNA practice exam. To download, visit our website for your IOS or Android device.