A certified nursing assistant, often known as a CNA, assists nurses in providing high-quality care to patients. Long hours and numerous duties are required, yet caring for patients on a daily basis gives some of the greatest rewards that any career can bring. Furthermore, the skills you gain as a certified nursing assistant might help you prepare for a long-term career in the field of nursing.
Go through the CNA duties on a daily basis (one who has completed CNA certification). As a CNA, you will be expected to complete the following five important work objectives.
CNA duties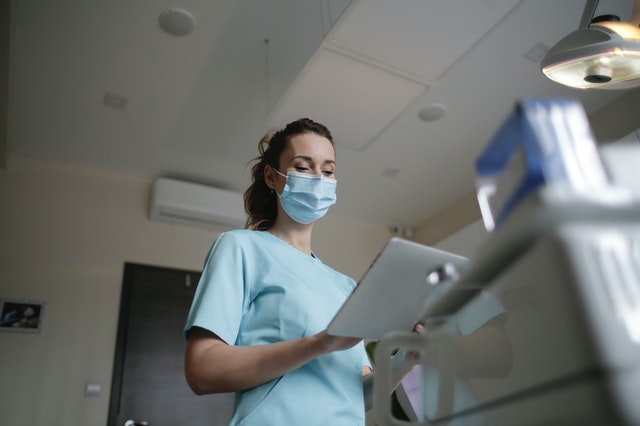 Start with the question of what do CNAs do in hospitals, you may get  some roles and duties of a CNA at a hospital setting as follow:
Feed, bathe and clothe patients as needed
Patients' basic needs are met by certified nursing assistants. Typically, this involves assisting them with bathing, dressing, and feeding themselves. Stroke victims, nursing home residents, and those suffering from accidents, illnesses, or surgeries in a hospital are examples of these patients.
Record the patient's vital signs
Some CNAs are in charge of taking and documenting patient vital signs, such as temperature and blood pressure. Daily CNA tasks like these are generally the initial stages of a patient's visit to a doctor's office or hospital, thus the CNA is in charge of making a good first impression on the medical team.
You can refer to our blog about Skills in CNA test: 5 Vital Signs and Measurements
Ensure that meals are served, beds are made, and rooms are kept clean
A certified nursing assistant's responsibilities frequently include providing meals to patients, changing beds, and assisting with room cleaning in addition to addressing patients' basic requirements. This includes things like cleaning out bedpans and changing soiled linens. It also entails having regular, one-on-one contact with patients—the compassionate relationships that may help individuals cope with sickness in a dignified manner.
Assist with some medical procedures and set up medical equipment
Laying out instruments for the next patient check or transferring heavy medical equipment from one area to another might be part of storing and putting up medical equipment. Some states let CNAs who have completed the required training assist or perform some medical procedures, such as blood draws.
Respond to calls for assistance and keep track of changes in a patient's condition or behavior
CNAs observe not just the obvious changes in a patient's physical health but also the subtleties of their mental state because they work so closely with them on a daily basis. That intuition may make a huge difference in a patient's ability to go through a difficult recovery or come to grips with a long-term illness.
CNAs make a huge impact on the quality of care patients get, whether they measure a patient's blood pressure before the doctor arrives, bring them food in the morning, or simply listen.
Visit our websites to get more information about CNA and free CNA practice test or download it for your IOS or Android device.
Necessary skills and qualities
Observance
It is critical for nursing assistants to be able to pay close attention to tiny details. Even the tiniest changes might cause severe health issues for their patients, especially the elderly. Minor changes in the patient's condition, such as new bruises or a decrease of appetite, must be reported to their doctor. Paying attention to little things like these might be the difference between life and death in some cases.
Patience and compassion
Compassionate and patient CNAs are the most successful. They must be compassionate and sympathetic when dealing with patients who may require a lot of help.
While caring for someone who has recently had a stroke and is learning to dress again, or helping patients walk after surgery, you will need to have a cheerful and calm approach.
This type of job needs a person who is strong-willed, compassionate, and caring. Caring for patients, especially those who are ill or reaching the end of their lives, may be difficult. It's critical to be supportive and strong for them and their families.
Ability to communicate
CNAs must be able to communicate effectively with both patients and medical personnel. Because CNAs are sometimes hired as unit clerks in hospitals, they must be knowledgeable in electronic communications and talk clearly and efficiently on the phone and with the staff.
Maybe you need Communication Skills Assessment For A Successful CNA
Maintain excellent health
Physical health and strength are also necessary for CNAs because they must frequently exert themselves. They must do duties such as transferring patients from beds to wheelchairs and assisting them in short-distance walking. CNAs must obtain enough sleep because they perform shifts at various hours of the day. In addition to doing any essential tasks, they must be attentive enough to observe subtle subtleties and changes in their patients' health, even in the middle of the night.
Teamwork skills
CNAs must be able to communicate effectively not just with patients but also with other members of the facility's staff. A CNA is a member of the medical team who ensures that a patient's basic requirements are fulfilled on a daily basis.
A Certified Nursing Assistant, or CNA, works closely with patients to provide them with basic, urgent care. CNA duties are not ones to be taken lightly because, aside from the nurses, they are the ones who spend the most time with the patients. Working as a CNA at a hospital necessitates a strong sense of compassion for others and a willingness to assist those in need. CNAs should ideally be compassionate, loving, and empathetic people who can develop genuine emotional relationships with their patients.
CNAs frequently develop bonds with their patients as a result of the nature of their work. They'll learn to recognize their typical actions and emotions. As a result, they may be the first to discover any deviations before the patient expresses any complaints. Having skilled, professional CNAs on the healthcare team makes it easier for everyone on the team to execute their jobs more efficiently. Most significantly, a compassionate CNA will assist in gaining patients' trust in the system.
>>> Read more: 10 Good Qualities of a Nurse You Should Know